LaserGRBL is a free open-source software not related with any brand. We not sell Laser engraver, but we can suggest some solutions for all budgets. Looking for a discount code?
LASER DIODE ENGRAVING
What laser engraver I should buy? Can you reccomand one?
For those who want to start in the world of laser engraving I recommend a laser diode engraver. They are easier to use, do not require special calibrations, can be easily assembled in a few minutes and can be purchased with a very limited budget (150€ – 250€).
With a 20W (5.5 optical power) laser diode you will have the possibility to easily engrave on plastic, wood, leather, cardboard and to cut paper, cardboard, leather.
It is also possible to cut plywood up to 4/5mm thick, but if cutting is your main job better orient yourself on more powerful CO2 machines (read more).
The laser modules generally supplied with laser engraver are heavily pumped to obtain the highest powers, for this reason I strongly advise against letting them work for long periods at maximum power, otherwise they burn quickly. This recommendation applies more or less to all manufacturers. (read more)
WHY ORTUR
Their engraver differ from any other products you can find on the market for at least 3 characteristics:
they use a 32bit control board (instead of classic 8bit ATmega328) with an improved version of Grbl. This means no more communication error, hang etc.
they take safety very seriously with lot of safety feature: active position protection via G-shock sensor, active connection control (stop engraving if PC is disconnected or crash) , exposure limitation that turn off laser if there is no movement for a long time (prevent burning holes in your table or start a "garage fire")
they have limit switch sensors to allow repeatable positioning through the Homing procedure
In addition their products comes full of accessories, with good documentation, assembly and use guide, answers to the most frequently asked questions also with a series of video tutorials.
All this documentation can be downloaded thanks to a link that you can find in the box with the engraver, which is complete with all accessories for use and assembly carefully packed in an anti-shock package suitable for transport .
The after-sales assistance is also of good quality, both through email and via their facebook page
If you want to update your laser engraver with a more powerful unit they also sell spare laser module with different power options: 7W/15W/20W (electrical power).
WHY
Discount code available (read more)
Atomstack focus it product on solidity and safety.
In fact, their engraver is made entirely of metal, this gives it strength and reliability.
The fact that it is made entirely of metal makes it more stable, this means that the machine will stand still on the table without having to screw it solidly to it (as with other machines that move when the laser shakes). Furthermore, the control board is also shielded in a metal container.
The laser is fixed focus, but the machine features an intelligent slide system to quickly adjust the focus by moving the distance between the laser module and the work piece.
The protective glass mounted in front of the laser makes it safe to use even without wearing safety glasses. This make the engraver more convenient to use in environments where several people work (always paying attention since it is a laser!).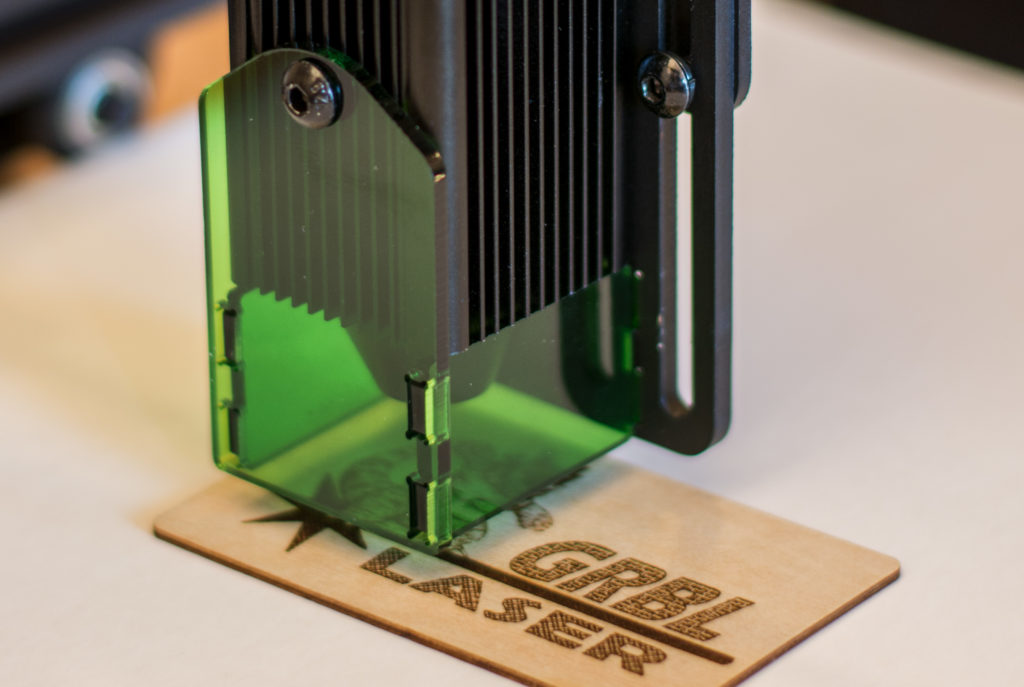 NEWS!!! In 2021 Atomstack released a new version of their engraver called Atomstack A5 PRO with improved laser module. You can see my review here: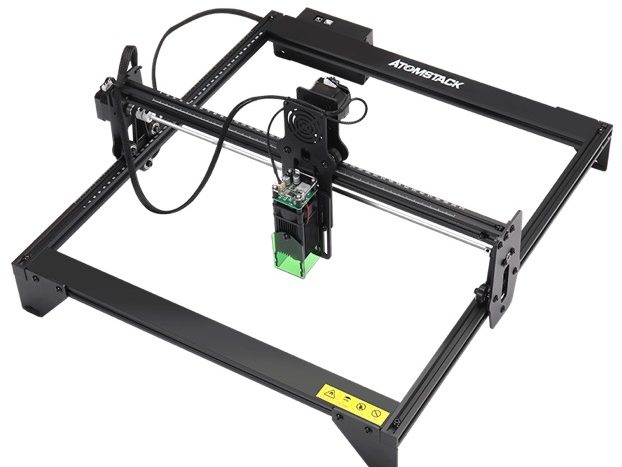 WHY SCULPFUN
SculpFun is a relatively new brand in this product segment, and I was lucky enough to be able to test one of their engraver. I found the product extremely solid and well designed, with some particularities that make it particularly comfortable to use.
Here you can find my video review.
OTHER SUPPORTED BRAND
LaserGRBL support a wide range of laser engraver based on the open "GRBL" firmware. This list include some brand that is compatible with LaserGRBL (by user feedback).
FoxAlien
FoxAlien brand is a little more expensive than Ortur and Atomstack, but the product is of a higher class. The double motor on the Y axis guarantees faster and always accurate positioning, the cable-carrying chains ensure that the cables move without the risk of ending up under the laser beam.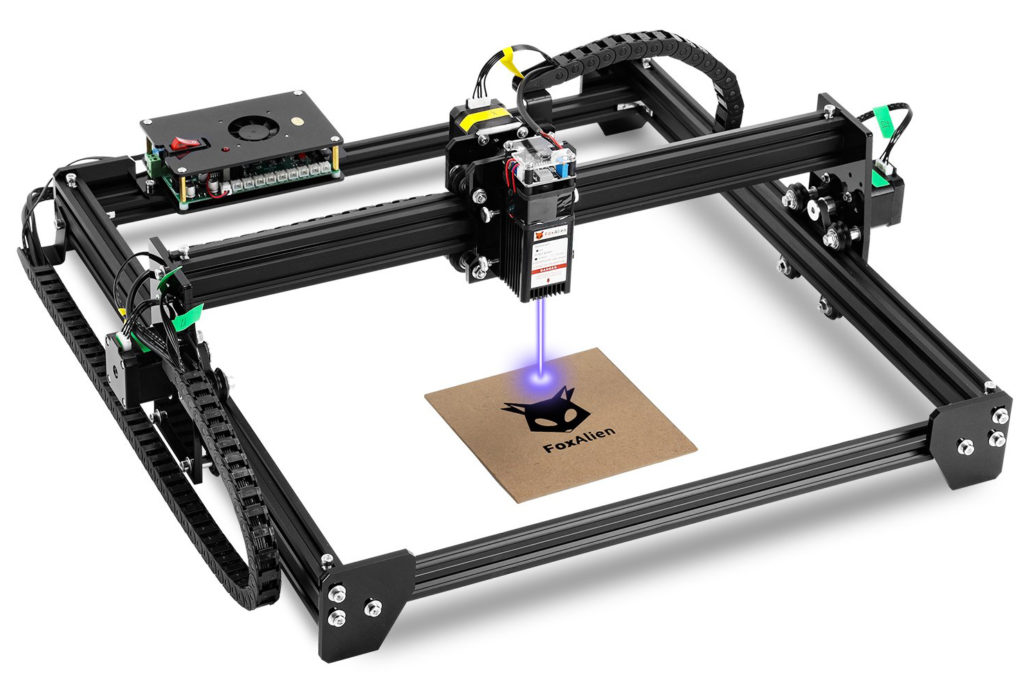 EleksMaker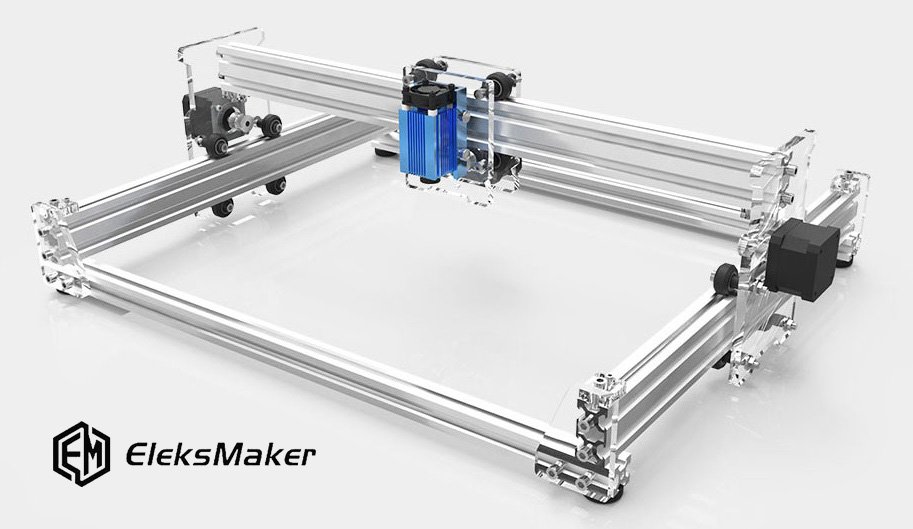 EleksMaker is a brand made by makers for makers.
They have a very nice and particular design and in addition to laser engraver they produce a lot of tools and accessories for DIY. They have a very informative site and quality after-sales support service.
Their laser diodes are sold claiming TRUE optical power, so 3.5W laser equals about 10-15W of competitors modules.
Eleksmaker support was not tested by me, but it was reported to be compatible by the LaserGRBL user community.
BETTER QUALITY MODULES
If you need laser modules for continuous use, I do not recommend using modules that come with your markers, either those that are cheap on ebay, amazon, aliexpress, bangood, gearbest … All these modules are designed for occasional use and deteriorate quickly if used at maximum power for a long time.
There are a couple of very good sellers who do small productions but of the highest quality. They are all modules made by hand according to the best standards, all tested one by one and that can also provide personalized answers for any needs.
Discount code available (read more)
Opt Lasers is what I call "the Ferrari of lasers". They offer a wide range of products that fits the needs of any professional who wants a high quality laser system on their CNC.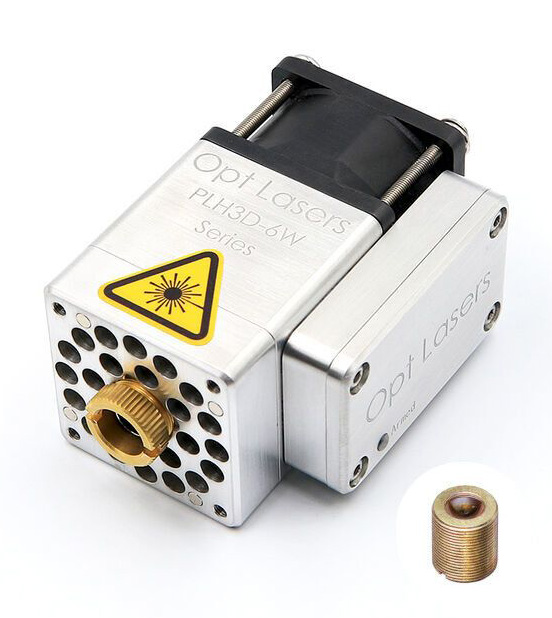 Laser modules are available ranging from optical power from 2W up to 15W (equivalent to about 85W of electrical power). These are products made from solid aluminum blocks, individually CNC machined, universal mounting systems are available for easy connection to existing machines.
Their production includes air-cooled and water-cooled laser modules, magnetic quick attach and release systems, and many more!
Endurance laser is a Russian laboratory that provides modules of 5-10-15-20 W (blue light) 15-25-30W (infrared) and DPSS laser modules, as well as multi-laser combined system.
They also provide air nozzle and air-assist system and many types of accessory.
CO2 LASER ENGRAVING
Laser diode engraver is suitable for small workloads. If you need fast engraving, cutting thick materials you should consider purchasing a 40W or higher power engraver.
This kind of power is currently not achievable with diode technology, so you have to choose a CO2 laser machine. These machines are generally more expensive, larger, and more complex to use and most of them use their own control software.
Prices can vary between 400€ to 4000€ based on laser power and size of the worktop.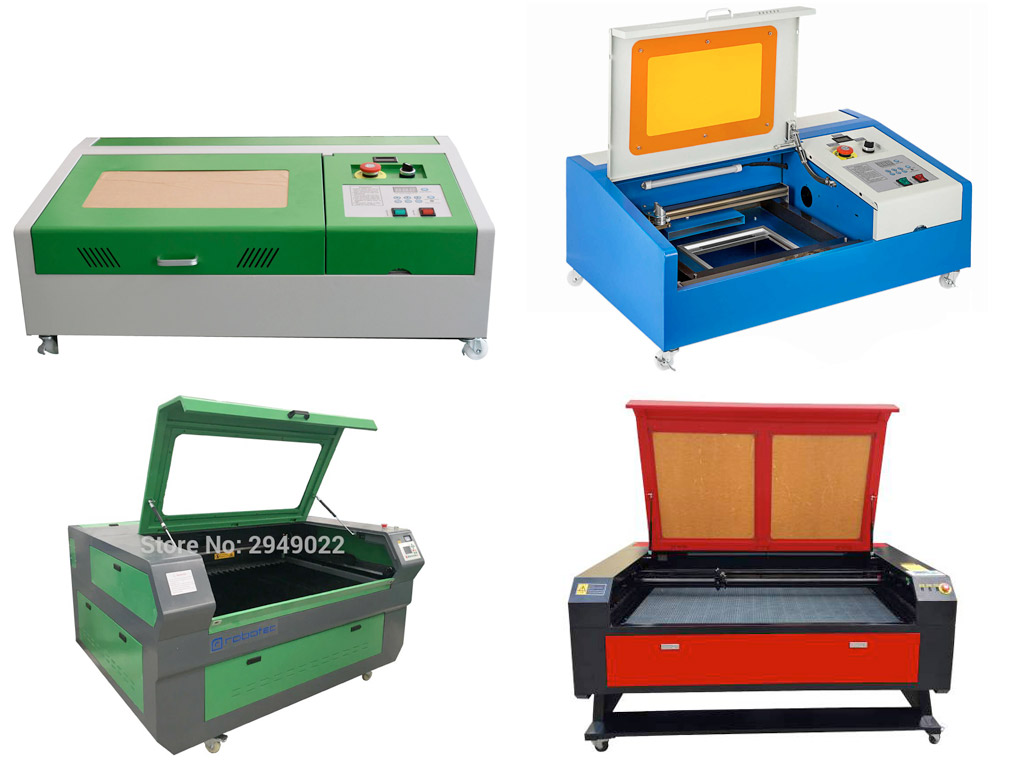 In this case I advise you to choose the most suitable product for you by evaluating shipping costs and product feedback.
STEEL LASER ENGRAVING
Laser diode engraver are not the best tool for metal engraving, even if with some tricks you can make some small incisions (using the most powerful modules).
However, if your goal is to engrave metals, you need to choose a fiber laser engraver.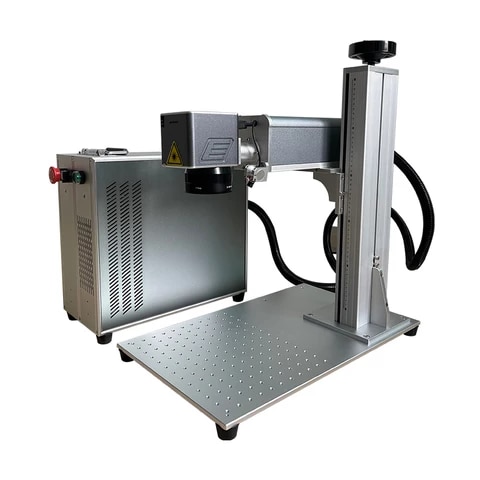 Starting from 50W a fiber laser engraver is able to engrave and also carve most common metals.