LaserGRBL is a free open-source software not related with any brand. This site does not sell Laser engraver, but we can suggest some solutions for all budgets.
LASER DIODE ENGRAVING
For those who want to start in the world of laser engraving I recommend a laser diode engraver. They are generally easier to use, do not require special calibrations, can be easily assembled in a few minutes and, most importantly, can be purchased with a very limited budget (150€ – 250€).

With a 20W (5.5 optical power) laser diode you will have the possibility to easily engrave on plastic, wood, leather, cardboard (and with some precautions also metal) and to cut paper, cardboard, leather and plywood up to 4 / 5mm thick.
Buying from China is now almost an obligatory choice but unfortunately many Chinese products do not guarantee the right quality and reliability over time. ORTUR brand is certainly an exception. I had the opportunity to personally test their products and I was impressed with the quality and the fact that the company is in a continuous research and development process to give the best quality-price ratio.
ORTUR Laser Master II – 400mm x 430mm – 7W/15W/20W options
ORTUR Laser Master I – 150mm x 160mm – 7W/15W/20W options Cheaper but smaller size
WHY ORTUR
Their engraver differ from any other products you can find on the market for at least 3 characteristics:
they use a 32bit control board (instead of classic 8bit ATmega328) with an improved version of Grbl. This means no more communication error, hang etc.
they take safety very seriously with lot of safety feature: active position protection via G-shock sensor, active connection control (stop engraving if PC is disconnected or crash) , exposure limitation that turn off laser if there is no movement for a long time (prevent burning holes in your table or start a "garage fire")
they have limit switch sensors to allow repeatable positioning through the Homing procedure
In addition, their products comes with good documentation, assembly and use guide, answers to the most frequently asked questions also with a series of video tutorials.
All this documentation can be downloaded thanks to a link that you can find in the box with the engraver, which is complete with all accessories for use and assembly carefully packed in an anti-shock package suitable for transport .
The after-sales assistance is also of good quality, both through email and via their facebook page
If you want to update your laser engraver with a more powerful unit they also sell spare laser module with different power options: 7W/15W/20W (electrical power).
7W/15W/20W Laser Unit – Adjustable Focus – PWM Modulation
CO2 LASER ENGRAVING
Laser diode engraver is suitable for small workloads. If you need fast engraving, cutting thick materials, or metal engraving, you should consider purchasing a 40W or higher power engraver.
This kind of power is currently not achievable with diode technology, so you have to choose a CO2 laser machine. These machines are generally more expensive, larger, and more complex to use and most of them use their own control software.
Prices can vary between 400€ to 4000€ based on laser power and size of the worktop.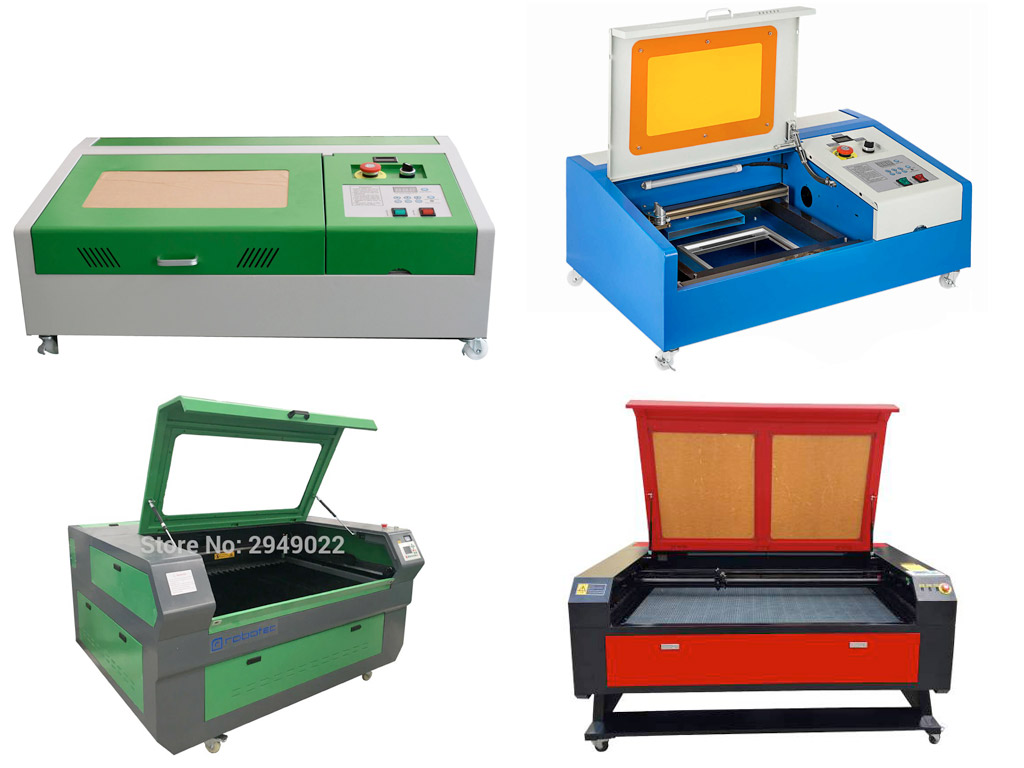 In this case I advise you to choose the most suitable product for you by evaluating shipping costs and product feedback.